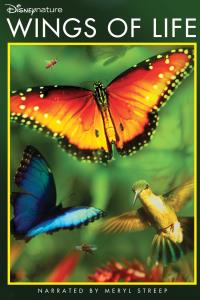 Disneynature's Wings of Life
Saturday, June 25, 2016, 11:00 a.m. - 12:30 p.m.
Midtown Art Cinema, 931 Monroe Drive NE, Atlanta, GA 30308 (in Midtown Promenade)


In celebration of National Pollinator Week, Monarchs Across Georgia is offering a film showing of
Disney
nature's Wings of Life.
To help us defer the costs, we simply ask that you
make a donation
to the Environmental Education Alliance of Georgia. You can make this donation at the door or because of limited seating, we recommend that you reserve your seat in advance (and make your donation online) by using this link.
RESERVE YOUR THEATER SEAT
Only credit card payments are accepted online. There is a $5.00 per ticket processing fee for this online service. Online reservations will be closed as of midnight Friday, June 24, 2016.
Native Georgia milkweeds, the host plant of the Monarch butterfly, will be available for purchase in the theater lobby after the showing. Plants are priced at $5.00 each.
Released as part of Walt Disney Studios' Disney
nature
banner, filmmaker Louis Schwartzberg's documentary employs macrophotography in order to show moviegoers a world they have likely never experienced. The secret lives of bats, butterflies, hummingbirds, and bumblebees come to life before our eyes as Schwatrzberg and his talented team highlight how the determination and interdependence of these diminutive creatures keep our chaotic world in balance.
Rated: G Runtime: 77 minutes View the Movie Trailer

Visit Disney
nature
's Wings of Life Education Guide page where you can download a 26-page guide with activities and lessons targeting grades 2-4. Four additional complementary film clips are also available.
Monarchs Across Georgia may be available to make presentations on monarchs and/or pollinator gardening to garden clubs, schools, or other interested groups OR to set up an exhibit at your community event. To request a presentation or exhibit, contact mag@eealliance.org.